We are thrilled to announce the developments in the ITONICS Innovation Operating System over the past six months. Designed with a singular focus on empowering organizations to unlock growth potential, foster seamless collaboration, ignite game-changing ideas, and focus resources on your most valuable initiatives.
In this blog post, we will dive into the exciting new features we launched, highlighting how you can use them to achieve better results in less time, using smarter, more effective approaches to innovation.
Centralizing innovation intelligence
Centralizing innovation information is paramount for organizations seeking to drive their innovation initiatives forward. By consolidating all innovation-related data and insights in one centralized platform, users gain a holistic view of their innovation landscape, enabling them to make informed decisions and strategic choices.
Centralization eliminates the pitfalls of scattered information, siloed departments, and fragmented workflows, fostering seamless collaboration and knowledge sharing across teams. Tracking and monitoring innovation activities are simplified, and organizations can harness the full potential of their innovation efforts to drive transformative outcomes.
1. Reduce duplication when importing your existing content
By importing your existing innovation portfolio, you get all your information into one system to eliminate redundancies and wasted resources. The Duplicate detector feature identifies duplicate content quickly while importing.
Import your existing Excel lists of trends, technologies, opportunities, ideas and more. You can also import your existing evaluation ratings and comments to ensure no important information is lost.
**Now also available for ITONICS Starter, Team and Professional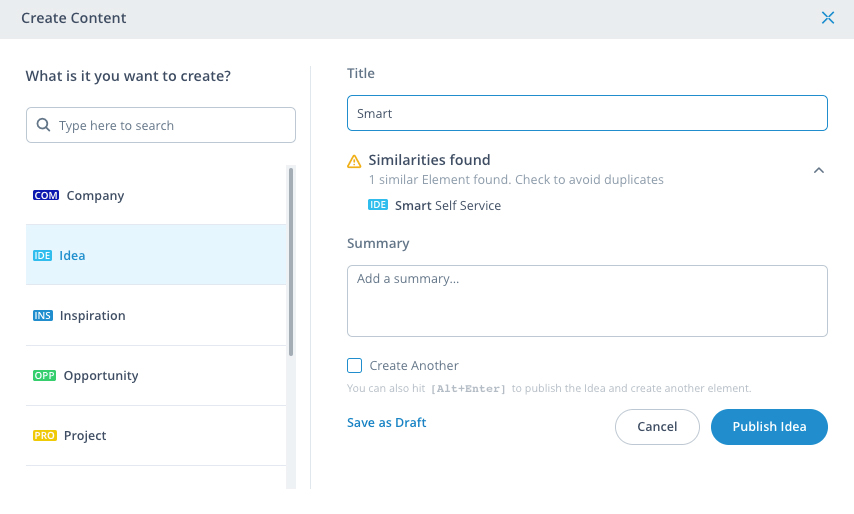 2. Smart recommendations
Quickly identify related information for the element you are interested in. Smart recommendations provide elements that have the highest similarity to your specific element. Based on machine learning techniques, Recommended relations compute a similarity score between your specific element and all other elements within the respective workspace.
Use the feature to help you quickly identify overlapping areas or gaps, for example, around topics of interest.
**ITONICS Starter, Team and Professional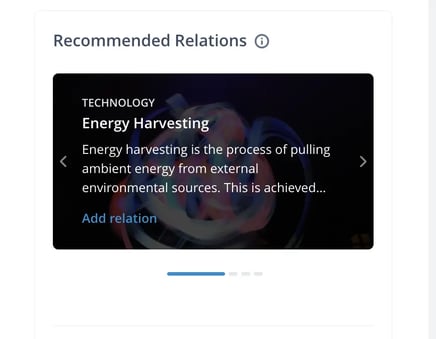 Aligning teams and steering outcomes for maximum ROI
These features provide ways for innovation teams to get an overview of important information, effectively monitor progress, adjust in an agile manner, and communicate across teams and departments.
With the ability to track and measure progress, users can steer innovation efforts in real-time, making data-driven decisions to course-correct, optimize outcomes, and seize new opportunities. These features empower organizations to drive focused, coordinated, impactful innovation initiatives that propel them toward sustained success in a dynamic market landscape.
3. Configurable Kanban Boards
The configurable Kanban Boards cards feature lets you customize the cards on your Boards to include important information such as assignees, due dates, progress, or any other relevant information to your workflow. Adding additional information to your cards will help you to understand, at a glance, where you need to focus your resources and where you need to adjust to increase ROI.
**ITONICS Starter, Team and Professional

4. Calculated number fields
This feature allows you to dynamically calculate existing numeric inputs. Use calculated number fields to perform addition, subtraction, multiplication, and division calculations to determine, for example, total project costs, ROI, or KPI aggregations. Simplify the process of deriving important calculations on one platform, and have that information already on the system for further evaluation, prioritization, and reporting.
**ITONICS Enterprise
5. Evaluators overview
In the campaign dashboard, the campaign manager can track the progress of evaluators for the assigned rating tasks. Assessing how evaluators are progressing with their assigned tasks helps campaign managers know when to send evaluators prompts and helps them gain context and steer tasks and decision-making.
**ITONICS Enterprise
6. Roadmap Sorting
The ITONICS roadmap helps you turn strategy into action by planning innovation activities and tracking their progress. The Roadmap Sorting feature makes that even easier by allowing you to move activities vertically on your Roadmap and therefore create Roadmap views that support senior management reporting that tell a visual story.
Use easy drag-and-drop to move activities between layers that may represent, for example, departments, dates, project phases, project objectives, or types of applications. This feature improves Roadmap configurability and improve reporting by allowing you to move activities that reflect what you want to communicate in a management meeting.
**ITONICS Enterprise
---
Want to know more about how ITONICS can help your team or organization accelerate growth?
---
Collaborating on one platform and increasing engagement
Collaboration features facilitate seamless communication and encourage participation among team members, departments, and stakeholders. Users can share ideas, insights, and feedback in real-time, which aligns efforts and increases efficiency.
Innovation management involves cross-functional collaboration. One single digital platform enables interdisciplinary collaboration and helps break down organizational silos.
7. Roadmap Embed
Include your Roadmap on your public website or on your Intranet. An iframe or inline frame enables you to embed HTML content into another HTML page. This allows you to communicate your innovation strategy and initiatives using an interactive Roadmap, as shown below.
**ITONICS Starter, Team and Professional
8. Public Workspaces
Workspaces are 'rooms' within the system that allow you and your teams to collaborate on specific use cases and adhere to particular organizational requirements. Set your workspaces to public or private to work with all colleagues, certain teams, or particular individuals.
Public workspaces allow all invited colleagues to immediately have access to the workspace so they can start collaborating instantly. Private workspaces allow you to restrict access to content and create workspaces for specific topics that are not relevant to all users.
**Now also available for ITONICS Starter, and Team
9. External Gateway for campaigns
Configure forms that can be submitted from outside the ITONICS system to enable open innovation ideation campaigns. Modify entire campaigns to suit your needs and perform campaign-driven ideation by selecting the campaign for which you want to receive external input and enabling the ITONICS External gateway to leverage collective intelligence.
This allows, for example, the enrichment of idea campaigns by opening the ideation process to external submissions to receive new ideas from outside the company for a running campaign.
**ITONICS Enterprise
Empower your organization with cutting-edge software
We are constantly working to improve and expand our software to meet the evolving needs of our customers. Stay tuned for new features that help you and your teams empower and scale innovation.
Whether you want to automate your workflow, engage and collaborate with others, optimize your portfolio, access valuable insights, or maintain compliance, we have tools and resources that can help. We are committed to providing you with the best possible tools and support to help you drive innovation, and we hope that you will continue to join us on this journey.