A new idea is only as good as the innovation ecosystem that supports it to grow. A lot of companies realize they have no proper system to prioritize ideas. Often, every department has its own ideation process, and there's a lack of oversight of the ideas generated. What's needed is a single point of truth for gathering, managing, evaluating, and developing ideas and pushing the most viable ideas to projects all on the same platform.
What is idea management software?
Most idea management software today focuses on helping companies collect and manage ideas. It serves as an online platform where employees, stakeholders, and even customers can submit their innovative ideas, suggestions, or feedback. This idea management platform typically offers a user-friendly interface, allowing individuals to easily submit new ideas along with relevant details and supporting documents. Once the ideas are submitted, the software facilitates a structured workflow with voting tools to prioritize them.
In the ITONICS approach, idea management should sit within the end-to-end innovation management process and address the fundamental question of "How to win." It's the connective tissue between raw concepts that emerge from opportunity spaces and fully-formed innovative solutions. The best of them will develop into new products, services, and business models.

Focus on the 'How to win' phase in the ITONICS Big Picture
Why your business needs an idea management tool
Without a methodological approach to idea management, even the best ideas may be fated to fail or simply slip through the cracks of your organization. The 2023 Gartner® Hype Cycle™ for
Innovation Practices describes how deploying an idea management tool can help your organization realize the full potential of ideas.
Organizations looking to boost their innovation efforts, often focus on ideation campaigns. Events like hackathons, challenges, and "idea jams" have emerged as popular methods for leveraging internal and external expertise to generate innovative ideas.
Successful ideation campaigns rely substantially on the brains being tapped. So, technology is not necessarily a requisite to propagate great ideas. However, where your organization can benefit from using idea management software is in the automation, scaling, and ultimate realization of the best ideas.
What to look for in the top idea management software
In contrast to entry-level idea management in software such as Microsoft Teams, the perfect solution do more than gather but rather empowers you to connect the dots between market foresight, project management, and strategic portfolio management.
The best idea management software not only helps organizations capture, organize, and filter ideas. More crucially, these tools enable you to do idea ranking based on criteria such as disruptive potential, cost, feasibility, customer value, and business impact. This equips you with a framework to manage an idea portfolio and make key decisions: what to execute, when, and with what resources. In a nutshell, a good innovation management solutions idea makes it easier to turn ideas into results-focused innovation in action.
You need a structured approach to prioritize ideas that ensure that they address the right goals with the right people involved at the right time. Top idea management software provides a clear process: from initial idea generation by those in a particular business unit to prioritization by leadership teams and then execution by the technical experts that commercialize ideas.
How to implement idea management software
Participation is essential if you plan to deploy an innovation management solution successfully in your organization. Teams must be engaged, action-oriented, and empowered to move ideas from the collection, refinement, and filtering stages to practical implementation and value realization. This requires an internal culture that encourages staff to share ideas, paired with collaborative innovation software for identifying the most promising ideas.
You can increase participation and ensure your organization is prepared by identifying the stakeholders who will use the innovation management software, ensuring they receive the necessary onboarding, and incentivizing engagement and internal feedback on the tool as well.
When selecting an idea management software solution that will be right for your organization, consider these three enabling factors: culture, system, and process. The best idea management software is ultimately one that employees are motivated to use and aligns with your internal workflow and objectives.
Gartner places Idea Management Tools on the 2023 Gartner® Hype Cycle™ for
Innovation Practices in the Slope of Enlightenment. The practice is expected to reach its plateau in 2-5 years, securing its position in the innovation manager's toolbox.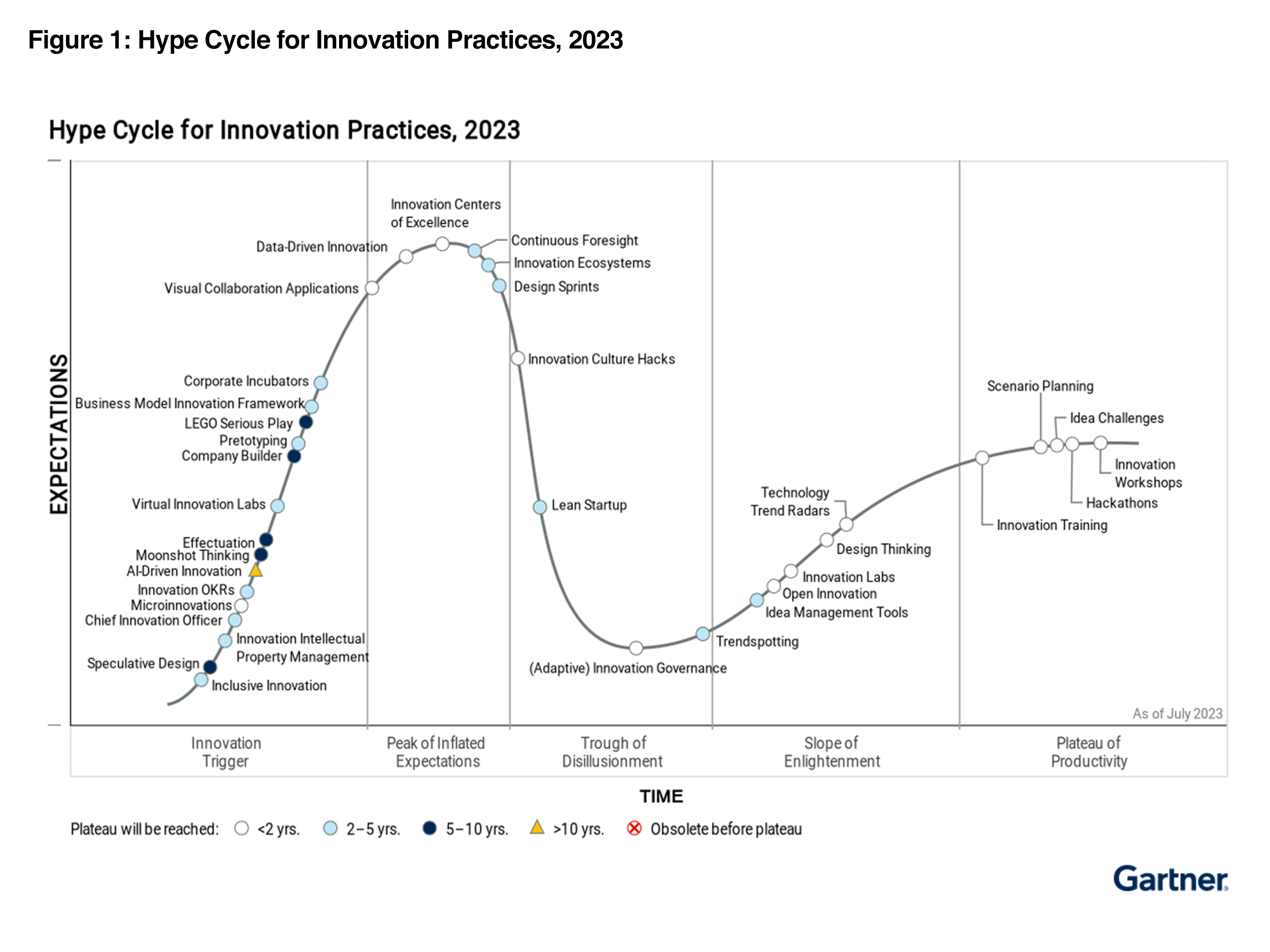 How ITONICS supports the idea management process
Idea management software is an important building block in the innovation ecosystem. Integrating idea management tools with other innovation tools and functions increases collaboration, transparency, and alignment. You want interoperability when setting up your entire innovation process.
The ITONICS idea management software centralizes the innovation process in a cloud-based platform. ITONICS Ideation is one of our three product packages. It's designed so you can use it to collect and nurture ideas from anyone, anywhere. Then, move the best ideas forward to maximize impact.
ITONICS drives innovation from strategy to execution by linking environmental scanning, trend and tech management, portfolio management, project planning, and roadmapping all in one Innovation OS. This enables organizations to analyze ideas, organize tasks, and track progress all in one place to deliver new initiatives.
Features that make ITONICS the best idea management software
Let's take a look at key features in the ITONICS Innovation OS that enable you to implement ideas.
With ITONICS Ideation, you can leverage the power of the crowd by collecting ideas from all your colleagues on our platform, structuring them by your own criteria, and asking relevant experts and stakeholders to assess them. Funnel incoming ideas into different campaigns, strategic themes, or growth opportunities. When a team member realizes they have a valuable idea that matches the theme of the campaign, they can easily create that idea in just a few clicks. Once the idea has been created, they can even use the Recommended Relations feature to link their idea to a trend element to motivate the concept.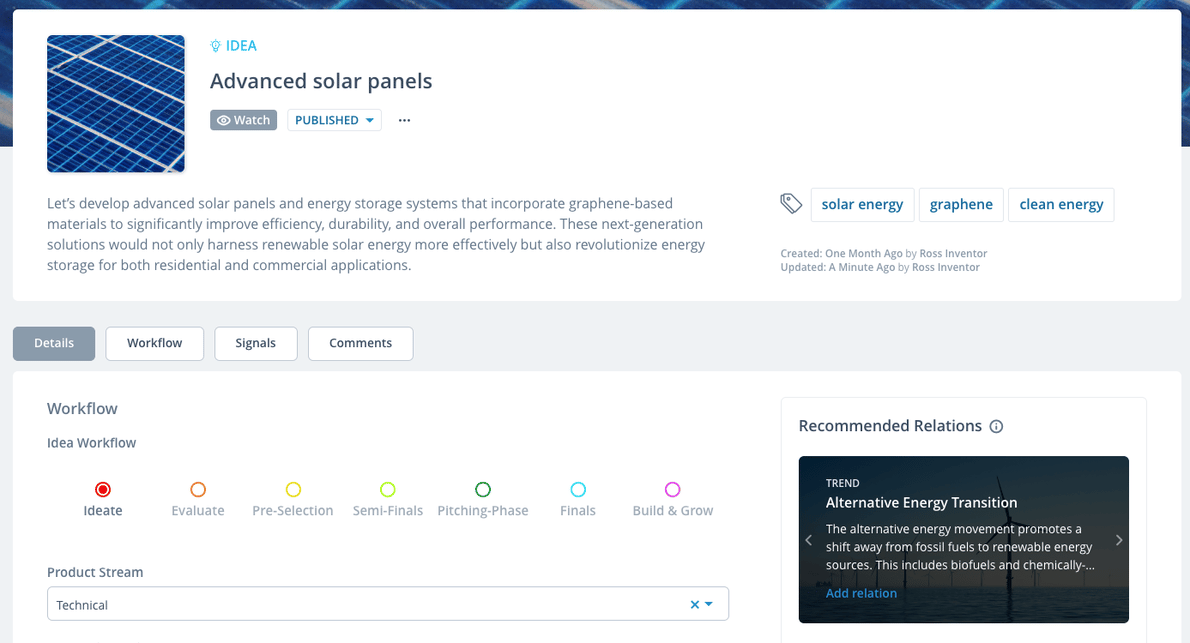 As a campaign manager, you can use the Kanban Board to see the spread of ideas according to specific criteria. The easy-to-use interface offers the flexibility to change the columns and swimlanes to display a different property, such as responsible business unit, status, or recommended action. Changing the dimensions, rearrange the cards on the Kanban Board.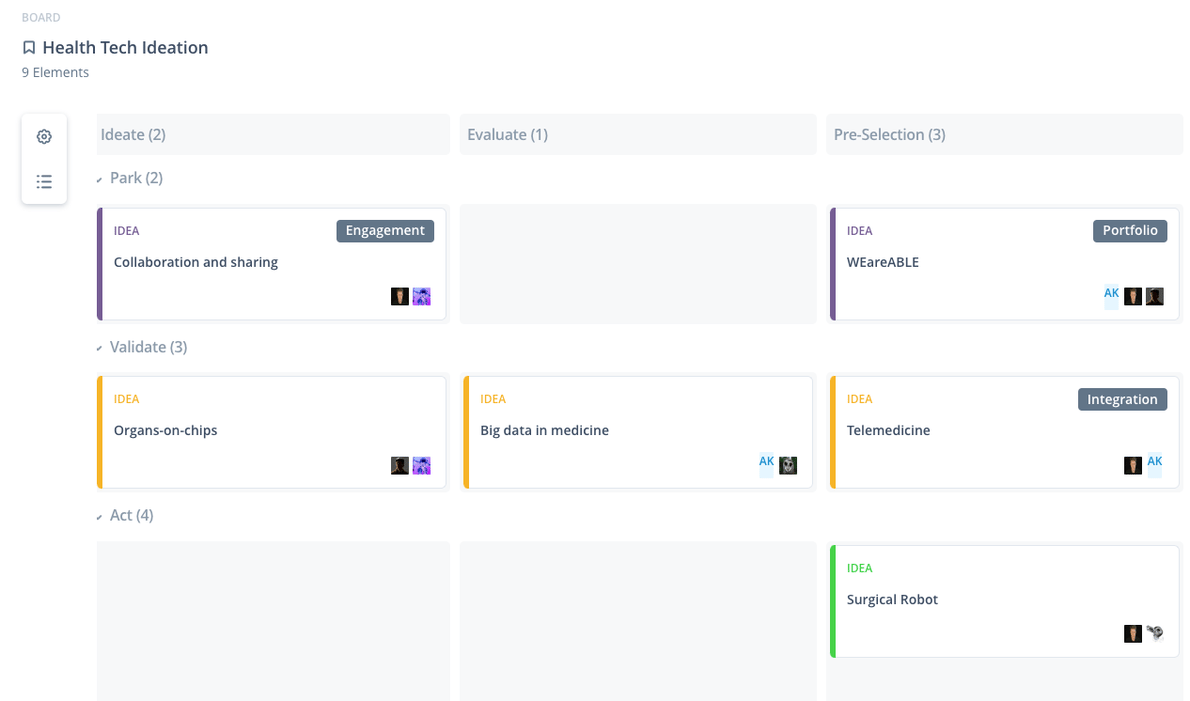 Then, to prioritize ideas for execution, use the Matrix view to compare them by rating criteria such as disruptive potential, internal know-how, market size, or complexity.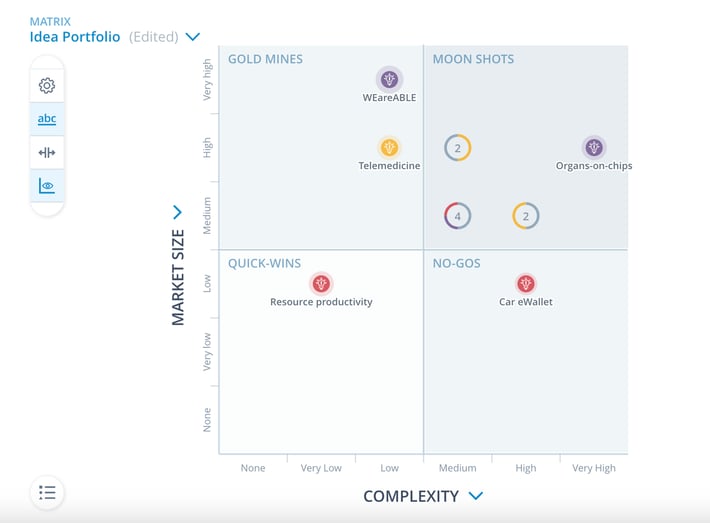 Introduce the dimension of time by linking ideas to projects in the Roadmap view. Turn priorities into action by planning the execution of your most valuable innovation initiatives.
Are you eager to try out our idea management solution? Get started today with a free software demo.
---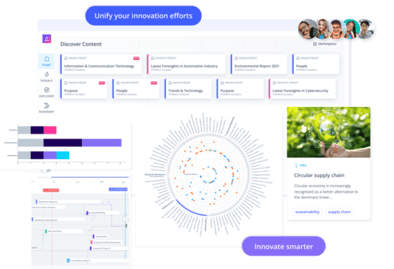 See the ITONICS Innovation OS in action
---